Create a labels file with Address Book data in Open Office / Libre Office
With OpenOffice you can create a Labels file and you can generate it with your Memotoo Address Book.
Create an OpenOffice Database with Memotoo data
Export Address Book from Memotoo
Convert CSV file to an OpenOffice spreadsheet
Launch "OpenOffice.org Calc"
Click on "Open ..."
Select the CSV file exported
Select "Semicolon" in "Separated by" and click "Ok"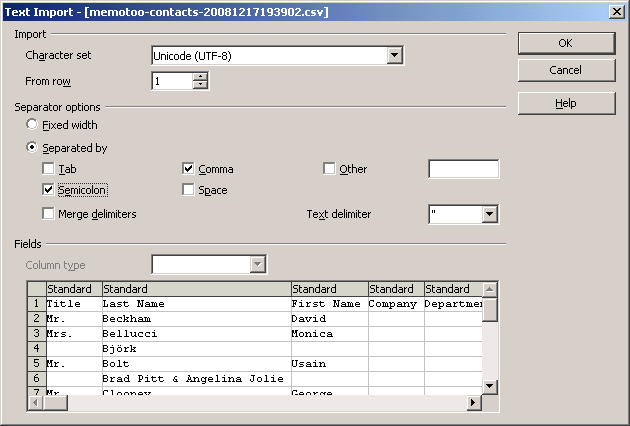 Save the file as "ODF Spreadsheet (.ods)" type - ex: memotoo.ods
Create the database
Launch "OpenOffice.org Base"
Select "Connecting to an existing database" and "Spreadsheet"
Select the Spreadsheet saved before
Click on "Finish" and save the file as "ODF Database" - ex: memotoo.odf
Create the OpenOffice Labels
In OpenOffice, select on "File", "New" and "Labels"
Select "memotoo" in "Database"
Select "Sheet1" in "Table"
Add the data as you want they appears on the page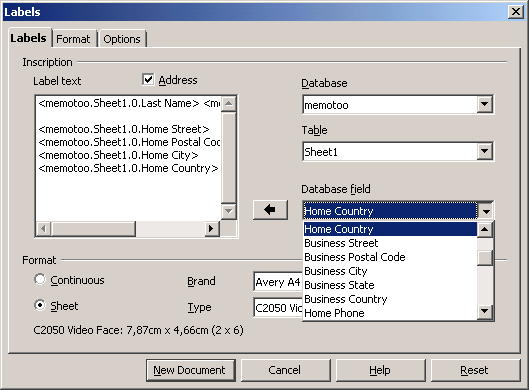 Click on: "New Document", then "Synchronize Labels" (To display synchronize button> Go to "Options" tab and check "Synchronize contents" while in the Label window.) Note that your data does NOT display on the screen; only the data fields are displayed.
Now, respond YES to the question about "Do you want to print a form letter?" The Mail Merge dialog opens. Select the records ("all", or some limited number to test with). "OK"; Print dialog... "OK".