How to add iCal calendar in Google Calendar
How to setup
If you do not want sync Memotoo and Google Calendar, you can add your Memotoo calendar in your Google Calendar account by the iCal function.
In Google Calendar, go to Others calendars (at the bottom left) and click on Add by URL: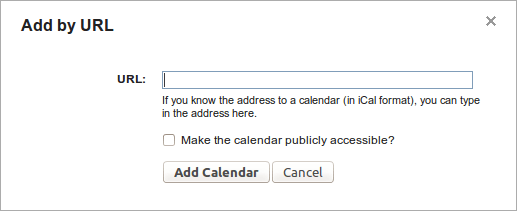 Follow this link to get the Memotoo iCal URL, and copy/paste it in URL field above:
https://www.memotoo.com/how-to-sync-your-calendar-icalendar.php

(be logged to view the URL with username/password)

After you will find the Memotoo calendar under Others calendars in Google Calendar (this calendar will be read only)
Add calendar of others Memotoo users in Google Calendar
Ask them to send you the public URL of their Memotoo calendar under Make the calendar publicly accessible?:
https://www.memotoo.com/my-calendar.php?rub=prefs#publicLinks

(the URL must start with https://sync.memotoo.com/calendarICSPublic...)

After add these URL as above with Add by URL in Google Calendar.
See also