Sync Maemo 5 / Nokia N900
To sync your Nokia N900 / Maemo 5 with Memotoo, you must install the app SyncEvolution.
(thanks to Obelix for this wiki)
Install SyncEvolution for Maemo 5
with Extras-devel
You can install syncevolution from the extras-devel repository (here you can find more details about the package: http://maemo.org/packages/view/syncevolution/)
Add the Maemo extras-devel repository
Install syncevolution with the Application Manager
Open syncevolution (using the desktop shortcut)
Go to Sync services / Add new service
The wizard pops up, just choose the Memotoo template, fill in your username and password and it'll just work.
or with package
Go to the application manager and add the catalogue:
Web address: http://people.debian.org/~ovek/maemo/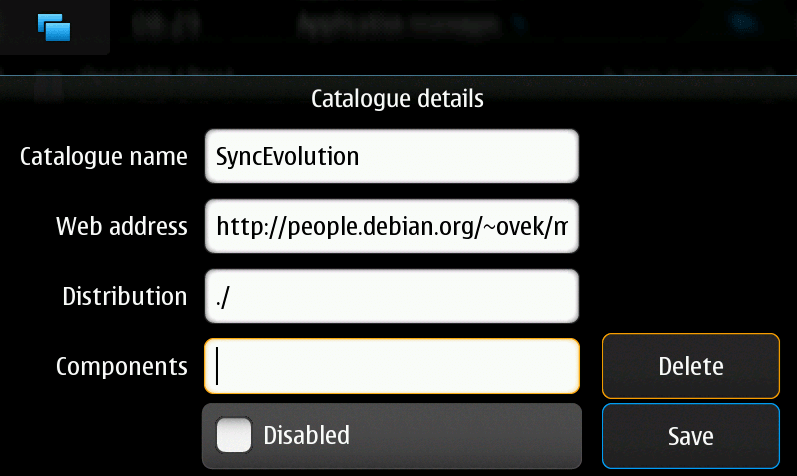 or diretcly download the catalogue:
https://www.memotoo.com/softs/maemo5/syncevolution.install

Search and install SyncEvolution
Install SyncEvolution for Maemo OS2008 / Nokia N800
Go here:
http://maemo.org/downloads/product/OS2008/syncevolution/

Config SyncEvolution
To configure SyncEvolution, you must have installed a text editor (ex: VI, Leafpad, ...) and use the command line.
Create the files for a sync Memotoo:
$ syncevolution --configure memotoo

(not necessary) Make a backup before editing files:
$ cd /home/user/.config/syncevolution/memotoo/
$ cp config.ini config.ini.old

Edit /home/user/.config/syncevolution/memotoo/config.ini and change these values:
syncURL = https://sync.memotoo.com/syncML
username = your login
password = your password

Edit /home/user/.config/syncevolution/memotoo/sources/addressbook/config.ini to sync contacts:
sync = two-way
uri = con

Edit /home/user/.config/syncevolution/memotoo/sources/calendar/config.ini to sync calendar:
sync = two-way
uri = cal or cal.XXXXX (use this to sync only one calendar: https://www.memotoo.com/how-to-sync-your-data-with-syncml.php#settings)

To sync many calendars, duplicate the calendar config file with this command:
$ syncevolution
--configure
--template memotoo
--sync-property username="LOGIN"
--sync-property password="PASSWORD"
--sync-property clientAuthType=basic
--sync-property syncURL="https://sync.memotoo.com/syncML"
--source-property uri="REMOTE_CALENDAR_NAME"
--source-property evolutionsource="LOCAL_CALENDAR_NAME"
CONFIG_NAME calendar

LOGIN: your login
PASSWORD: your password
REMOTE_CALENDAR_NAME: cal.XXXXX
LOCAL_CALENDAR_NAME: Name of the calendar in the phone
CONFIG_NAME: Unique name of the config name (ex: memotoo_birthdays)

Edit /home/user/.config/syncevolution/memotoo/sources/todo/config.ini to sync tasks:
sync = two-way
uri = task

Edit /home/user/.config/syncevolution/memotoo/sources/memo/config.ini to sync notes:
sync = two-way
uri = pnote

Start the sync
$ syncevolution memotoo

Add a shortcut on Desktop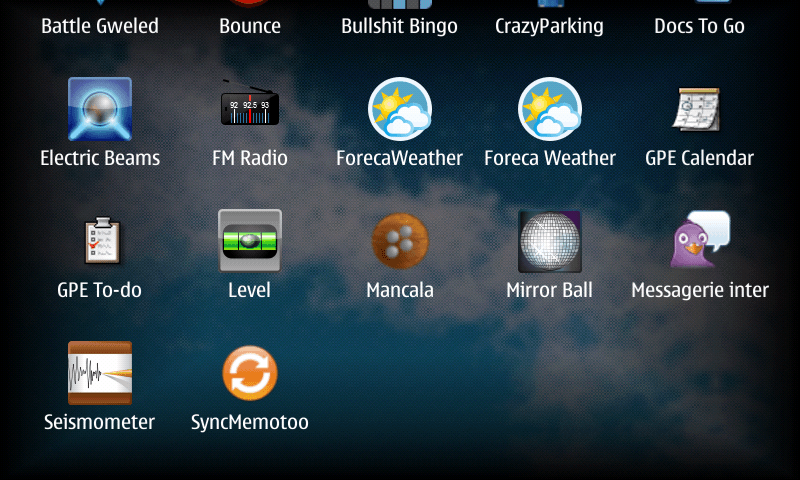 Upload this file in /usr/share/icons/hicolor/48×48/hildon/ (you will need root access: install Rootsh)
https://www.memotoo.com/softs/maemo5/memotoo.png

Create this shell script /usr/local/bin/memotoo.sh
#!/bin/sh
/usr/bin/syncevolution memotoo |tee  /tmp/memotoo`date +%y%m%d-%H%M`.log
printf "\t Press ENTER key to close.\n\n"
read a
exit 0

chmod 755 /usr/local/bin/memotoo.sh

Create this file in /usr/share/applications/hildon/ and with name syncMemotoo.desktop
[Desktop Entry]
Encoding=UTF-8
Version=0.1
Type=Application
Terminal=true
Name=syncMemotoo
Exec=/usr/bin/osso-xterm /usr/local/bin/memotoo.sh
Icon=memotoo
X-HildonDesk-ShowInToolbar=true
X-Osso-Type=application/x-executable

Links
Documentation to use SyncEvolution with Maemo
German documentation to use SyncEvolution with Maemo
See also